To Green Angel Tower Audiobook Streaming Online & Download Free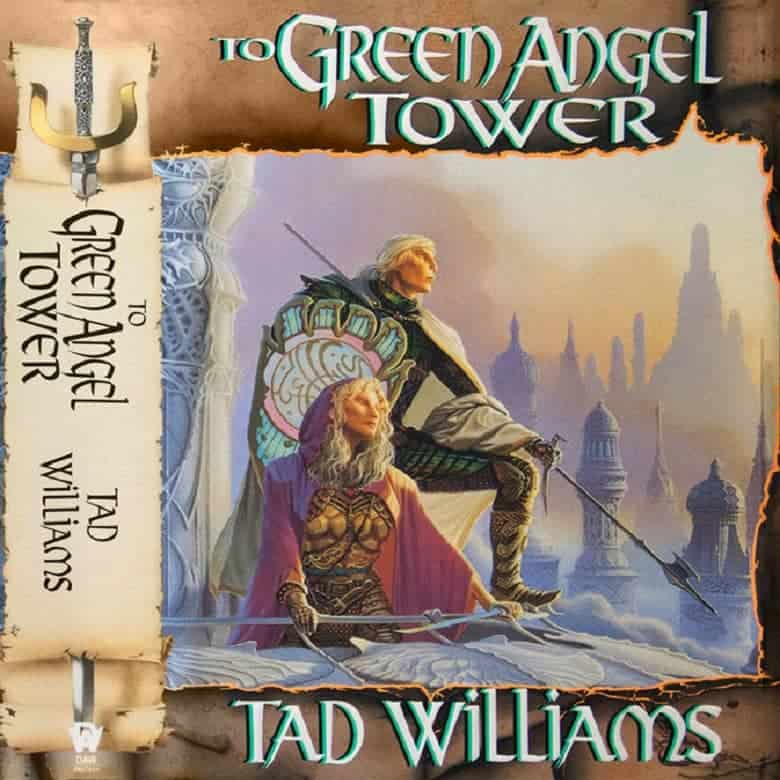 To Green Angel Tower Audiobook is the third and final audiobook by American writer Tad Williams in an epic fantasy trilogy filled with warfare, magic, and wonder – Memory, Sorrow, and Thorn – that launched one of the most important fantasy writers of our time.
This book brings to a stunning and surprising conclusion Tad Williams's monumental tale of a magical conflict that fractures the very fabric of time and space, turning both humans and Sithi against those of their own blood.
At times touching, at times amusing, but always rousingly epic – this is the audiobook to listen to if you're into high fantasy. Highly recommended!
Plot Summary
The story begins with the forces of Prince Josua Lackhand rallied at the Stone of Farewell, where the icy hand of the Storm King Ineluki has yet to take a deathgrip on the land. The remaining members of the League of the Scroll have also gathered at the Stone in hopes of unraveling an ancient prophecy. If deciphered, it could reveal to Josua and his army the only means of striking down the unslayable Storm King.
After Simon/Seoman Snowlock and Binabik have their reunion, they come to the realization that Memory – one of the three Great Swords recognized as being key to defeating the Storm King – is one and the same with Bright-Nail, old King John's sword that was buried with him not three years previously. The trouble is, the grave of King John Presbyter lies in the shadow of the Hayholt, the stronghold of King Elias, and between the Stone of Farewell and Hayholt marches the army Elias has sent to besiege the defenders.
Meanwhile, Miriamele, Elias's daughter who has joined Josua's cause, is an unhappy prisoner on the ship of a lascivious and ambitious lordling to whom she has surrendered her virtue knowing only too late of his true nature. Another princess, Maegwin of Hernystir, falls deeper into madness, leading her people in a seemingly futile resistance against Elias's allies who have conquered her kingdom, and deep in the ancient forest of Aldheorte, the immortal Sithi are mustering for a final conflict.
While Josua and his army must make a final stand to try to delay the forces of King Elias, Simon embarks upon a quest to Hayholt Castle to try to obtain the last of the three legendary swords and use their hidden magics to defeat The Storm King Ineluki and restore peace to Osten Ard once and for all
About the Author
Tad Williams is an American fantasy and science fiction writer. His genre-creating (and genre-busting) books have sold tens of millions worldwide, in twenty-five languages.
He is the author of the multivolume Memory, Sorrow, and Thorn series, Otherland series, and Shadowmarch series as well as the standalone audiobooks Tailchaser's Song and The War of the Flowers.
Tad Williams has held more jobs than any sane person should admit to – singing in a band, selling shoes, managing a financial institution, throwing newspapers, and designing military manuals, to name just a few.
Reviews
To Green Angel Tower Audiobook mp3 is a satisfying ending to a super solid and influential fantasy series. It contains some great surprises while delivering a conclusion that left me both pleased and hungry for more.
Both epic tales are long, huge canvasses with multiple threads and fates that move at varying paces across the page, and in such a broad telling one can easily find oneself a little lost unless the story is very tightly and relevantly coordinated, one fate to the next.
This is a very long audiobook. Once again we are confronted with long journeys and once again, even though everyone is together, somehow they split and then keep splitting so that the story you're following is suddenly stopped at a crucial point but you are left to wonder what is going on because for 2 more chapters you have to read the going-on of other people.
Williams does an excellent job of this. No scene is too long or wears on you, and each scene is definitely needed to keep the entire canvass moving at its stately pace toward the ever-looming resolution.
All in all, a great conclusion to a very worthwhile trilogy. I'm glad I stuck it out with this one, it'll remain a favorite fantasy world of mine for some time to come.
Narration
Again, Andrew Wincott's performance is amazing. It is a work of art with his powerful voice. The narrator has a great voice and his different voices and accents were just what was needed. He each character their own voice as well as accent even.
Listen & download free
You may love to listen to all stories in Tad Williams audiobooks collection: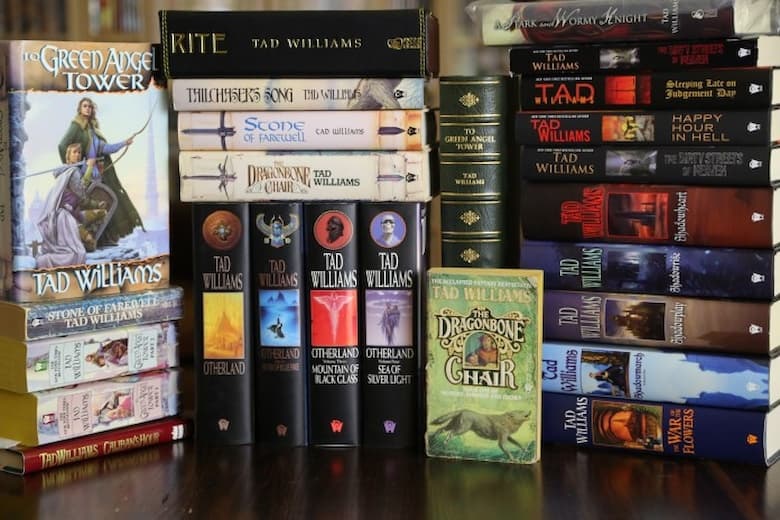 1985 – Tailchaser's Song Audiobook
1988 – Child of an Ancient City Audiobook
1990 – Stone of Farewell Audiobook
1993a – To Green Angel Tower Audiobook
1993b – Caliban's Hour Audiobook
1996 – City of Golden Shadow Audiobook
1998 – River of Blue Fire Audiobook
1998 – The Burning Man Audiobook
1999 – Mountain of Black Glass Audiobook
2001 – Sea of Silver Light Audiobook
2002 – The War of the Flowers Audiobook
2003 – The Happiest Dead Boy in the World Audiobook
2003 – The Scent of Trumpets, the Voices of Smoke Audiobook
2004 – Shadowmarch Audiobook
2007 – Shadowplay Audiobook
2007 – The Stranger's Hands Audiobook
2009 – A Stark and Wormy Knight Audiobook
2009 – Ants Audiobook
2009 – The Lamentably Comical Tragedy Audiobook
2009 – The Tenth Muse Audiobook
2010 – And Ministers of Grace Audiobook
2010a – Shadowrise Audiobook
2010b – Shadowheart Audiobook
2012 – Every Fuzzy Beast of the Earth, Every Pink Fowl of the Air Audiobook
2012 – The Dirty Streets of Heaven Audiobook
2013 – Happy Hour in Hell Audiobook
2013 – The Boy Detective of Oz: An Otherland Story Audiobook
2013 – The Old Scale Game Audiobook
2014 – Sleeping Late on Judgement Day Audiobook
2014 – Strong Medicine Audiobook
2014 – Three Lilies and Three Leopards Audiobook
2017 – The Heart of What Was Lost Audiobook
2017 – The Witchwood Crown Audiobook
To Green Angel Tower by Tad Williams is now available in audible format, mp3 is more than 63 hours long, yet the narration by Andrew Wincott, is so enticing that you get hooked instantly, and keeps you up at night listening!
Narrated by: Andrew Wincott
Series: Memory, Sorrow & Thorn, Book 3-4
Length: 63 hrs and 10 mins
Categories: Literature & Fiction, Action & Adventure
Don't waste your time, click here to listen and download Memory, Sorrow and Thorn: To Green Angel Tower Audiobook free by Tad Williams right now:
You can download any your favorite audiobook, books, comic for FREE with

INCREDIBLE Time-limited opportunity:
I extremely encourage you to buy the original book to support the authors and enjoy the highest quality books.
My website is for people who already own the audiobook and wish to stream it. Please contact the me or content providers to delete copyright contents if any. To uploaders: You may not use this site to distribute any material when you do not have the legal rights to do so. It is your own responsibility to adhere to these terms. To listener: Contents shared by this site's users are only for evaluation and tryout, I extremely encourage you to buy the original book to support the authors and enjoy the highest quality books. Contact me [email protected]
Hope you have a great time with me website!!!