The Truth About Crypto Audiobook is a straightforward, practical guide to the newest frontier in investment strategy – crypto – from #1 New York Times bestselling author and personal finance expert Ric Edelman.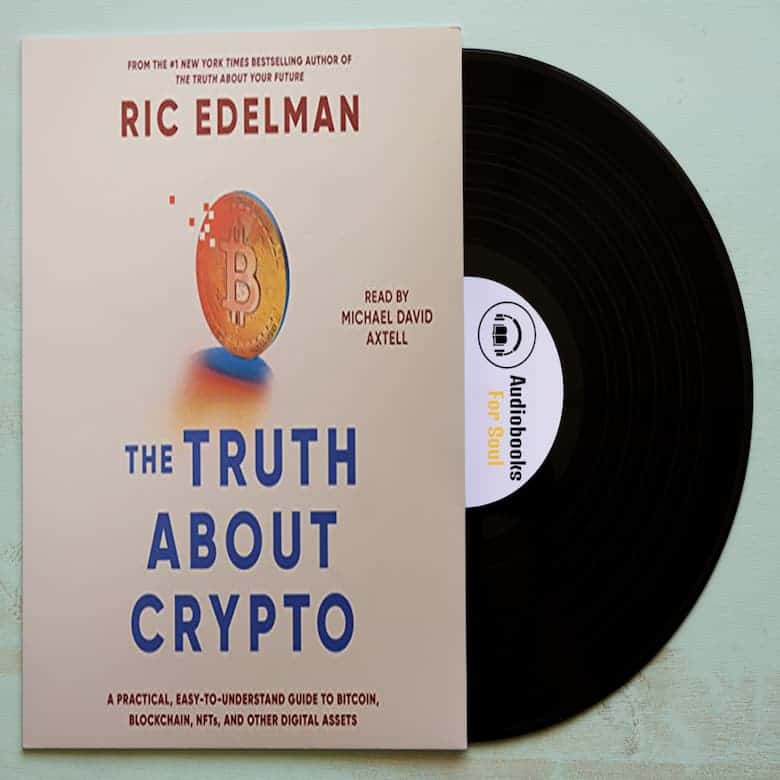 Overview
Blockchain and bitcoin are here to stay – and as the Bank of England stated, this new technology could "transform the global financial system". No wonder PWC says blockchain technology will add two trillion dollars to the world's $80 trillion economy by 2030. Indeed, blockchain technology and the digital assets it makes possible are revolutionary, the most profound innovation for commerce since the invention of the internet.
And yet, the average investor – and the investment advisors who manage two-thirds of all their money – aren't aware of all this, or of the incredible investment opportunities now available. Fortunately, Ric Edelman, one of the most influential experts in the financial field, shows investors how they can engage and thrive in today's new investment marketplace.
Featuring the prophetic insights you'd expect from one of most acclaimed financial advisors, The Truth About Crypto is fun to listen to and easy to understand – and most importantly gives listeners the sound, practical advice we all need to succeed with this new asset class. Best of all, Edelman shows how blockchain works, the difference between digital currency and digital assets, and a comprehensive look at every aspect of the field. This audiobook is a must-hear guide if you want to achieve investment success today.
Ric Edelman is among the financial profession's most influential people according to Investment Advisor, RIABiz and InvestmentNews. Barron's ranked him three times as the nation's #1 Independent Financial Advisor and he's in Research magazine's Financial Advisor Hall of Fame. Ric is founder of the Digital Assets Council of Financial Professionals and Funding Our Future Coalition and holds two patents for financial product innovation.
Ric is the industry's top financial educator, for thirty years the award-winning host of his national personal finance radio show. He's also produced award-winning specials for Public Television, and is a #1 New York Times bestselling author of ten books on personal finance. He taught personal finance for nine years at Georgetown University and is now Distinguished Lecturer at Rowan University, which named its communications school the Ric Edelman College of Communication & Creative Arts in 2020.
Reviews
The Truth About Crypto Audiobook is the information investors need to know. A breezy, conversational explanation of Bitcoin, NFTs, and other digital assets. The author is a financial writer who knows how to make learning enjoyable. The examples are clear and sometimes very funny.
It's a challenging topic, but the author takes a lot of time in the beginning to explain the core concepts. He doesn't try to convince you, but he does provide a clear argument about cryptocurrency.
Michael David Axtell's narration was fine, although I would have preferred to hear this in the author's familiar voice. I could hardly put the audiobook down. Highly recommended!
Listen & download free
Don't waste your time, click here to listen and download Ric Edelman: The Truth About Crypto Audiobook free right now:
You can download any your favorite audiobook, books, comic for FREE with

INCREDIBLE Time-limited opportunity:
I extremely encourage you to buy the original book to support the authors and enjoy the highest quality books.
My website is for people who already own the audiobook and wish to stream it. Please contact the me or content providers to delete copyright contents if any. To uploaders: You may not use this site to distribute any material when you do not have the legal rights to do so. It is your own responsibility to adhere to these terms. To listener: Contents shared by this site's users are only for evaluation and tryout, I extremely encourage you to buy the original book to support the authors and enjoy the highest quality books. Contact me [email protected]
Hope you have a great time with me website!!!