My Life as a White Trash Zombie Audiobook – Diana Rowland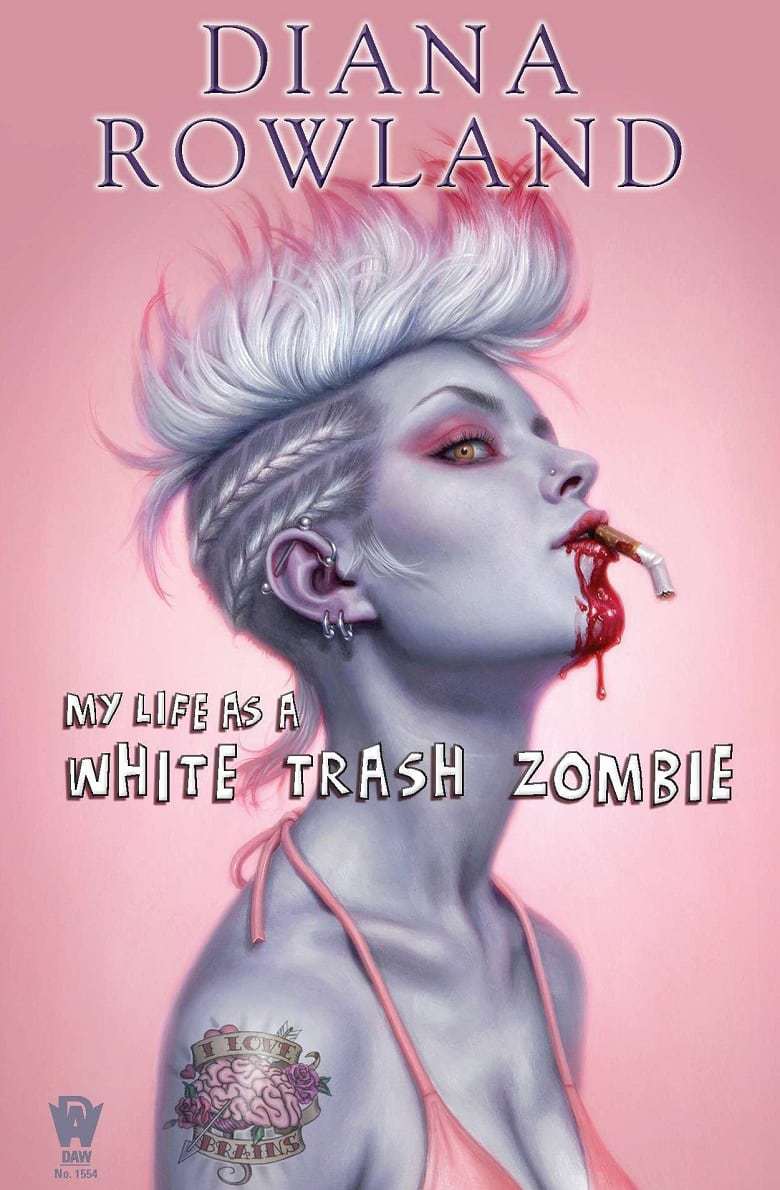 My Life as a White Trash Zombie Audiobook Free DownloadMy Life as a White Trash Zombie Audiobook is a horror audiobook meets humorous urban fantasy in the first book of the White Trash Zombie Audiobook series, Winner of the 2012 Best Urban Fantasy Protagonist by the RT Awards
Plot Summary
Angel Crawford is a loser.
Living with her alcoholic deadbeat dad in the swamps of southern Louisiana, she's a high school dropout with a pill habit and a criminal record who's been fired from more crap jobs than she can count. Now on probation for a felony, it seems that Angel will never pull herself out of the downward spiral her life has taken.
That is, until the day she wakes up in the ER after overdosing on painkillers. Angel remembers being in a horrible car crash, but she doesn't have a mark on her. To add to the weirdness, she receives an anonymous letter telling her there's a job waiting for her at the parish morgue—and that it's an offer she doesn't dare refuse.
Before she knows it she's dealing with a huge crush on a certain hunky deputy and a brand new addiction: an overpowering craving for brains. Plus, her morgue is filling up with the victims of a serial killer who decapitates his prey – just when she's hungriest!
Angel's going to have to grow up fast if she wants to keep this job and stay in one piece. Because if she doesn't, she's dead meat.
Literally.
The Characters
Angel Crawford is a loser on probation, who takes drugs to forget, to not care about her life, and throws up at the sight of blood. Her dad is another loser, an unemployed alcoholic who beats her once he's had x number of beers. Mom is a nutcase who died in prison. Randy is her drug-using, laidback, sort of boyfriend who repairs cars, doesn't particularly care, and isn't above using her. Clive is his drug dealing friend.
The jerky Nick Galatas is one of the van drivers, he's pre-med, and he's bucking for death investigator; Jerry Powell is the third van driver. Dr. Leblanc is the parish forensic pathologist. Dr. Duplessis is the coroner, the head dude. Derrel Cusimano is Angel's partner on the job and a death investigator; the other death investigators are Monica Gaudreau and Allen Prejean, the chief investigator. Ed Quinn is the paramedic who helped bring Angel back to life on that lonely road. Marianne is his girlfriend who trains a cadaver dog, Kudzu.
Officer Marcus Ivanov is the cop who arrested Angel for the stolen Prius and found her on the side of the road. Detectives Ben Roth (he's the kind one) and Mike Abadie (would get on well with that first nurse) are investigating a series of headless murders.
Zeke Lyons worked at Billings Funeral Home before he got fired. John Kang works at the Scott Funeral Home and claims he's the main distributor. Peter Plescia is a pizza delivery zombie. Adam Campbell was a technical writer who lived out in the swamp. Herbert Singleton had a Porsche.
Author Diana Rowland
Diana Rowland is an urban fantasy writer and is best known for her Kara Gillian Series and White Trash Zombie Series. She has worked as a bartender, a blackjack dealer, a pit boss, a street cop, a detective, a computer forensics specialist, a crime scene investigator, and a morgue assistant.
In 2013 Rowland received an RT Reviewer's Choice nomination for Best Urban Fantasy Worldbuilding for Touch of the Demon.
Audiobook Reviews
Story: After listening to this totally fun book about eating brains, I have to eat my words: I don't hate Zombies after all! This is the third pretty great Zombie book (after The Junkie Quatrain and World War Z) I've listened to and I have finally realized that this proves something I've known for many years but kind of forgot – there are NO limits on great writers and creative minds.
This book has an interesting take on zombies and there is some cool world-building. I've never seen zombies portrayed this way before. The writing style kept me engaged from beginning to end and I am definitely interested in finding out what happens to Angelkins next.
Narrator: Allison McLemore's delicate voice and Southern accent give Angel's first-person narration a humorous kick. McLemore excels at bringing Angel's self-deprecating and sarcastic comments to life. Her brisk pacing suits Angel's personality and draws listeners in from the first chapter, keeping them glued to their earphones as she plays up the book's 'gross factor' with drawling descriptions of gooey brains and crunchy skull cavities. She's also good at giving unique voices and mannerisms to secondary characters.
Download and Listen Free!
Narrated by: Allison McLemore
Series: White Trash Zombie, Book 1
Length: 9 hrs and 5 mins
Categories: Fiction, Horror
Don't waste your time, click here to listen and download free Audiobook My Life as a White Trash Zombie – White Trash Zombie #1:
You can download any your favorite audiobook, books, comic for FREE with

INCREDIBLE Time-limited opportunity:
I extremely encourage you to buy the original book to support the authors and enjoy the highest quality books.
My website is for people who already own the audiobook and wish to stream it. Please contact the me or content providers to delete copyright contents if any. To uploaders: You may not use this site to distribute any material when you do not have the legal rights to do so. It is your own responsibility to adhere to these terms. To listener: Contents shared by this site's users are only for evaluation and tryout, I extremely encourage you to buy the original book to support the authors and enjoy the highest quality books. Contact me [email protected]
Hope you have a great time with me website!!!