White Trash Zombie Unchained Audiobook – Diana Rowland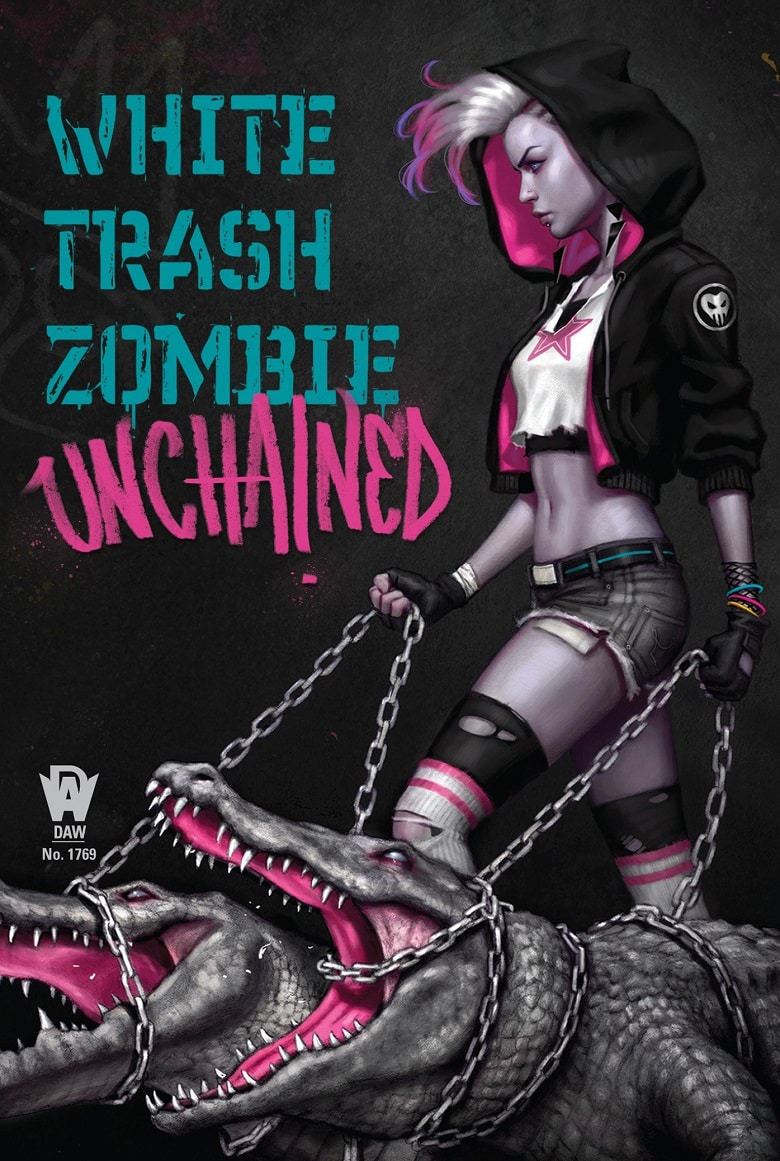 White Trash Zombie Unchained is a 6th audiobook in the White Trash Zombie urban fantasy audiobook series, which should really be listened in order since each installment builds on the previous books. This audiobook picks up shortly after the events of the last audiobook.
The story opens with the heroine, Angel Crawford, just recovered from her last (un)deadly adventure just in time for another one. A new zombie strain has arrived affecting even the gators in the swamp and this brings an old nemesis back making a strange bedfellows situation. The new strain's epidemic must be stopped and the stakes are high to find a cure. So much isn't adding up and Angel and the other zombies have to figure it all out fast.
Plot Summary
Angel Crawford has finally pulled herself together (literally!) after her disastrous dismemberment on Mardi Gras. She's putting the pieces of her life back in order and is ready to tackle whatever the future holds.
Too bad the future is a nasty bitch. There's a new kind of zombie in town: mindless shamblers, infectious and ravenous.
With the threat of a full-blown shambler pandemic looming, and a loved one stricken, Angel and the "real" zombies scramble to find a cure. Yet when Angel uncovers the true reason the plague is spreading so quickly, she adds "no-holds-barred revenge" to her to-do list.
Angel is busting her ass dealing with shambling hordes, zombie gators, government jerks, and way too many mosquitos, but this white trash chick ain't giving up.
Good thing, since the fate of the world is resting on her undead shoulders.
Author Diana Rowland
Diana Rowland is an urban fantasy writer and is best known for her Kara Gillian Series and White Trash Zombie Series. She has worked as a bartender, a blackjack dealer, a pit boss, a street cop, a detective, a computer forensics specialist, a crime scene investigator, and a morgue assistant.
In 2013 Rowland received an RT Reviewer's Choice nomination for Best Urban Fantasy Worldbuilding for Touch of the Demon.
Audiobook Reviews
All in all, a fantastic outing that will not be my last with the series. Like a good reader girl, I'll be catching up on the backlist and progressing forward as a new fan. Urban Fantasy lovers, White Trash Zombie Unchained Audiobook MP3 is a winner!
Story: This entry is a creative and satisfying addition to the White Trash Zombie universe, and allows Angel to be Angel, yet grow as well. All your favorite side characters make an appearance and serve a purpose.
Her character has really grown over the course of the series and it has been a lot of fun to watch her figure out how she wants to live her life. Angel is incredibly smart and resourceful. She also cares deeply for her friends and the population in general and feels a responsibly to protect others.
The ending of this one was the best ever. It was just really good.
Narration: And once again Ms. McLemore does an amazing job narrating this audiobook. Allison McLemore narrated and whoa girl was she a fab fit. She nailed the southern, the genders, and the tempo of this story so well. I was riveted and well-settled with her narration from beginning to the end. In just one book, she established herself as the voices of the White Trash Zombie series.
I would highly recommend this series to others. The entire series is just a whole lot of fun.
Download and Listen Free!
Narrated by: Allison McLemore
Series: White Trash Zombie, Book 6
Length: 14 hrs and 22 mins
Categories: Fiction, Horror
Don't waste your time, click here to listen and download free Audiobook White Trash Zombie Unchained – White Trash Zombie #6:
You can download any your favorite audiobook, books, comic for FREE with

INCREDIBLE Time-limited opportunity:
I extremely encourage you to buy the original book to support the authors and enjoy the highest quality books.
My website is for people who already own the audiobook and wish to stream it. Please contact the me or content providers to delete copyright contents if any. To uploaders: You may not use this site to distribute any material when you do not have the legal rights to do so. It is your own responsibility to adhere to these terms. To listener: Contents shared by this site's users are only for evaluation and tryout, I extremely encourage you to buy the original book to support the authors and enjoy the highest quality books. Contact me [email protected]
Hope you have a great time with me website!!!